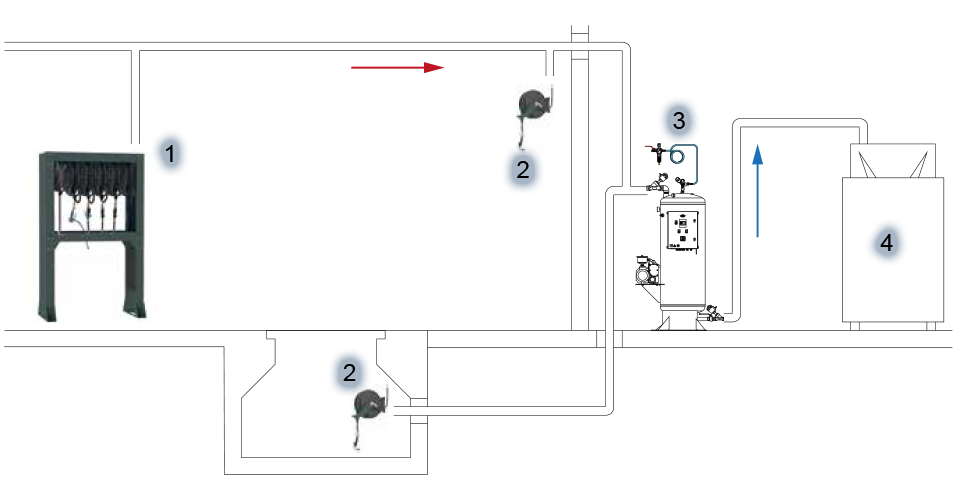 High Vacuum automatic unit for use in centralized waste oil suction systems in large vehicle maintenance workshops.

The unit is easy to install and does not require any special on site adjustments. It simply requires connecting to a compressed air supply (8 bar maximum pressure) and to a 400 V power supply, once the unit is connected to the waste oil storage tank pipeline and the vacuum line have been installed.

- Vacuum reservoir is discharged by pressure once it is full with waste oil.
- The unit includes two level sensors that control the automatic discharge of the reservoir to a remote storage tank. Once the discharge is completed, the unit automatically generates the optimal vacuum conditions again.
- Maximum vacuum in reservoir: 99%.
- Electronic control board for controlling main functions and manual discharge knob.

The system consists of the following parts:
1. Hose reel for oil distribution and waste oil suction can be conveniently placed next to each other without issues.
2. Hose reel for waste oil suction, can be placed on the wall, ceiling or pit.
3. Vacuum unit
4. Storage tank


The units are designed and manufactured for use with waste oil only.