Information about lubricating oil
Packaging
Oil is available in different packaging format. Our oil equipment can be used for:

25 liters plastic container
60 liters metal drum (sometimes called ¼ drum)
208 liters metal drum (sometimes called 1/1 drum)
1000 liters IBC (container) in plastic material
Bulk oil from tanker truck

Oil purposes
Lubricating oil has many purposes:

• To lubricate ie; keep the friction surfaces separated
• To cool down parts by transporting away heat
• To protect moving parts (engines etc) from corrosion.
• To reduce vibrations and thereby also noice (engine noice etc)
• To have a cleaning function

Oil pumps are made of steel, aluminium, zink and fitted with nitrile rubber seals (NBR).

Oil is not a corrosive fluid, but instead protects and assists to lubricate the pump.

It is also possible to use oil pumps for most types of glycol based coolants/antifreeze fluids.

Do not chose a too small capacity pump, as it will have to work harder and then may not last as long as it should.
Fluids & Properties
Viscosity

Definition: A measure of a fluid's flow resistance at a given temperature. It corresponds to the informal concept of a fluid's "thickness" at a given temperature. Viscosity can be expressed in Saybolt
Universal Seconds (SSU/SUS) or Centistokes (cSt). These units are transformed to centipoise (cp) to calculate friction loss.


Temperature change viscosity

High temperature reduce oil viscosity and make it easier to pump and also prime the pump.
Oil at cooler temperature increase its viscosity and may also affect priming of the pump. The back pressure in the pipe system will increase at lower temp. The oil viscosity will also be affected by the pressure force and be more fluid at a higher pressure.


Heating of oil and grease

Before heating oil and grease always consult your supplier. Grease is generally more sensitive to heat as it may separate the oil content from its mix (soap and oil mix) and thereby change its properties.
Thermal expansion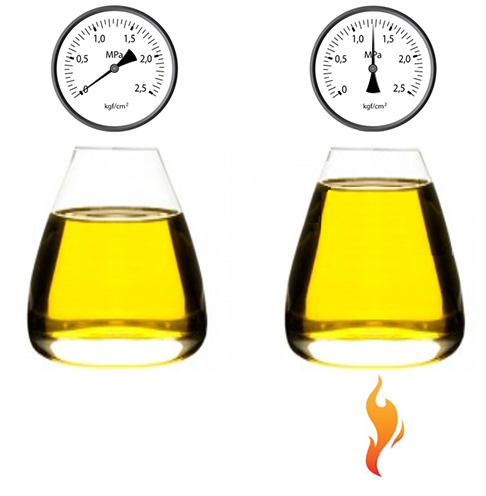 Fluids expand and increase in volume when heated and this is also valid for: engine oil, gear oil, hydraulic oil, glycol (coolant/antifreeze), wind screen fluid etc.

When a fluid is heated up in an enclosed pipe the pressure will increase as it has no room to expand. For every centigrade temperature increase of the oil, the pressure increase about 10 bar.

Example: Workshop (oil system) temperature is 20°C but later increase to 30°C

Temperature increase of 10°C thereby lead to 100 bars pressure increase in the oil system.

Pressure relief valve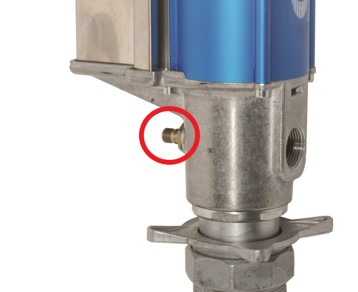 Our 3:1 and 5:1 oil pumps are fitted with pressure relief valves (PRV). The relief valve will release a small oil volume in case pressure reach about 60 bar. This important device protect the system from reaching pressures over 60 bar. In order to keep the oil relief outlet clean it is recommended to fit a hose on it and leading oil back to its drum/tank.
Pressure ratio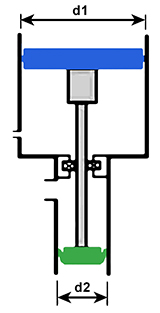 Both the air motor (blue part) and the wet/liquid part (green part) of the pump are fitted with pistons. The area relation of these surfaces make up the pressure ratio.

Air motor piston area
-------------------------- = Pressure ratio
Liquid piston area

Example:
Piston area in air motor part d1 has an area of 25 cm² and liquid piston area d2 has an area of 5 cm². Pump pressure ratio will then be 5:1 as the liquid pressure out will be 5 times higher than the inlet air pressure.
Air pressure of 7 bar X pressure ratio of 5 = 35 bar liquid pressure
Pipe system for oil
Pipe systems for standard viscosity oils are recommended to follow below guidelines. (In case this is not followed it could lead to slow flow with high back pressure)


Steel pipes:

Ø22x1,5mm 0-80m
Ø28x2mm 0-150m
Ø35x3mm 0-300m


Oil hoses:

Ø3/4" 0-80m Steel braided (1-layer) hose

A common oil distribution system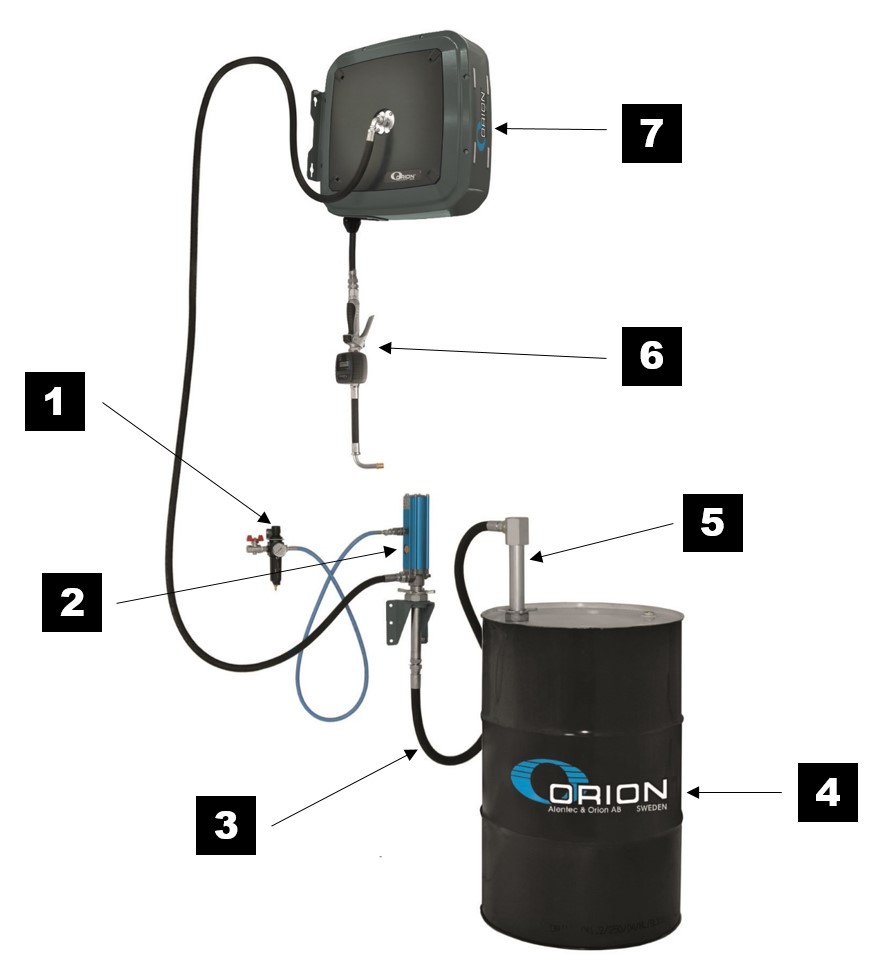 See picture and the explanation of the included components in an oil distribution system:

1. Air regulator for setting the proper pressure to the pump
2. Pump for suction of the fluid from the drum and then pumping it out to the dispense point
3. Suction hose shall be as short as possible and be of at least ¾-1 inch dimension (larger pump larger dimension)
4. Drum/IBC/tank with for example: engine oil, glycol or coolant/antifreeze
5. Suction tube fitted in drum/IBC/tank etc.
6. Oil valve with digital meter.
7. Oil hose reel, in this example of enclosed type

Suction line
The below issues should be avoided in the suction line to the pump:


Long suction line
, see our range of suction hoses


Too small dimension
, see our range of suction hoses


Non-return valve missing
, inlet line should always be fitted with a non-return valve

If suction line is not up to its dimensional needs the risk is that the pump will cavitate ie; small air bubbles arise (in oil) on the suction side and then move to the pressure side where it causes implosions inside the pump, and thereby damaging it but also resulting in lower output etc.

Choosing the right pump